Prayer Expedition at Epworth by the Sea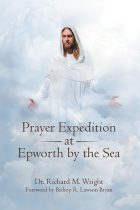 Epworth by the Sea is one of the best Christian retreat centers in the United States! This lovely retreat center on Georgia's coast is a great place to draw nearer in your personal relationship with God through Christ.
Dr. Wright uses his personal faith journey to provide a way to experience Epworth by the Sea in a way that opens yourself to God's moving in your life, which leads to spiritual transformation!
Spiritual Explorers Welcome!
"Epworth-By-The-Sea…is a great place to be!"
—Rev. Dr. Charles Adams
Former Epworth-By-The-Sea Superintendent
"Whether it is your first visit or your hundredth to Epworth-By-The-Sea, this guide to prayer will greatly enrich your experience of this unique setting."
—Bishop R. Lawson Bryan, Episcopal leader of the South Georgia Conference of The United Methodist Church